Understanding Your Explanation of Benefits
What Is an Explanation of Benefits (EOB) statement?
Your Explanation of Benefits (EOB) is a paper or electronic statement provided by your dental benefits company, which breaks down any dental treatments or services that you have received.
The EOB is different from a bill. It is sent to you after your dentist visit, and outlines your costs, the treatments that were covered under your dental plan, and treatments that may not have been covered and why.
Why Is Your EOB So Important?
After you receive your EOB, you will know what, if anything, you owe to your dentist. An EOB presents the opportunity to make sure you are being billed for a service or treatment you actually received, and that the amounts listed are within your expectations. Therefore, understanding the different parts of an EOB is critical to finding and avoiding billing errors.
An EOB provides essential information, including but not limited to, treatments performed, dentist's fees, dental benefits payments, amount you may owe for deductibles, co-pays, or procedures not covered by your policy, coordination of benefits information (if applicable), the portion of your annual maximum that has been used, and the amounts you have paid toward the deductible in the current benefit year.
An Example of an EOB
Below is an example of an EOB that you will receive after you have visited your dentist. It is important to note that while not every EOB will be formatted the same, this example contains many of the sections and terms you will find on a typical EOB.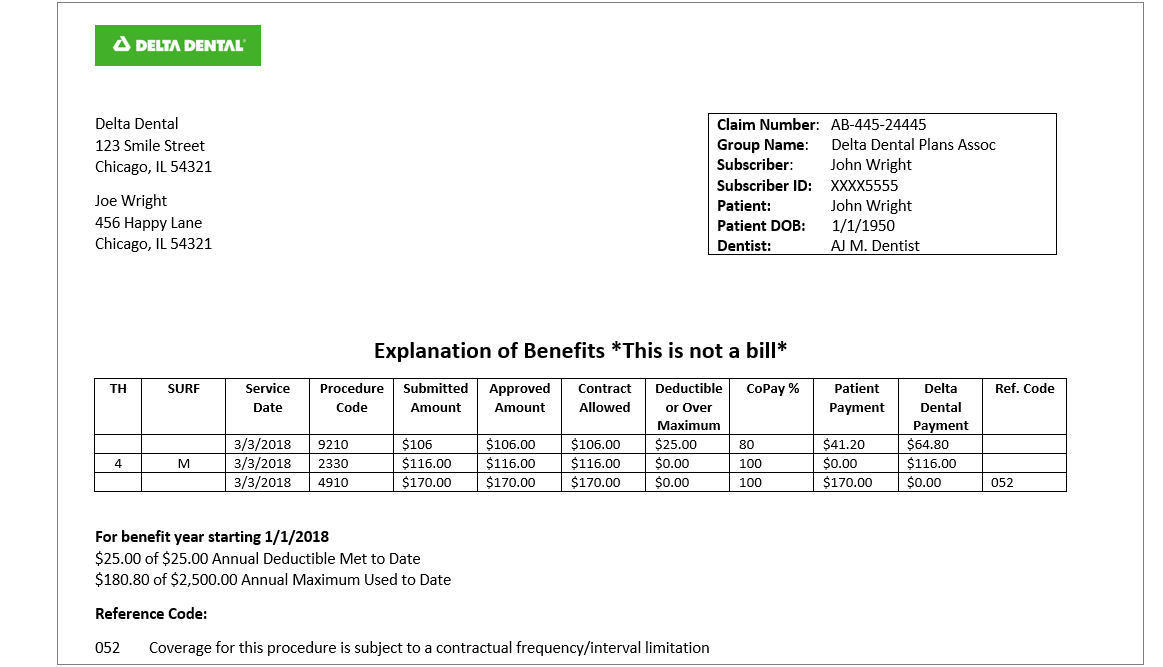 How to Read Your Explanation of Benefits
An EOB from Delta Dental will typically include the following information:
Top of Your EOB: You will see a section that contains subscriber and member identification information, dentist name and the claim number. You might need this information to check on the status of a claim status.
TH or Tooth No.: This refers to the tooth number(s) treated. This ranges from 1-32 for adults and A through T for children.
SURF: This identifies the surface of the tooth that was treated. This could include the front side (M: mesial), back side (D: distal) or other areas of a tooth.
Service Date: The date the procedure was performed.
Procedure Code: Also referred as the CDT Code (Current Dental Terminology Code), a set of codes used to identify the procedures performed at the dentist's office.
Submitted Amount: This is the dollar amount the dentist submitted to your dental benefits company for a given procedure.
Approved Amount or Maximum Approved Fee: This is the dollar amount that Delta Dental approved for the services you received based on the dentist's agreement with Delta Dental.
Contract Allowed or Allowed Amount: This amount depends on your employer's contract with Delta Dental, as some employers may place a dollar limit on certain procedures. In most cases, the approved amount and allowed amount will be the same.
Deductible: The amount you must pay before your dental benefits begin.
% Copay or Payment Level %: The dollar amount or percentage your dental benefits plan will cover per procedure. Tip: This is different than the flat copay that you typically pay during a physician visit for medical insurnace.
Patient/Member Payment: The patient/member payment is the dollar amount you pay.
Delta Dental Payment: Delta Dental's payment for the services provided.
Reference Code, Adjustment Notice or Process Policies: Explains any limitation on your dental benefits coverage for the procedure you received.
Other Terms That Your EOB Might Reference:
Procedure Description: Describes the treatments and procedures you received at the dentist's office.
Fee Adjustment: The difference between the approved amount and the submitted amount.
Claim Number: The number assigned to the claim that corresponds to the EOB.
Your Other Insurance Paid: The amount paid by any other insurance you may have.
Benefit Period: The period of time of your coverage.
Annual Maximum: The maximum dollar amount your dental benefits plan will pay toward the cost of dental services and treatment. Tip: This is not the most you will pay out of pocket per year that you typically see in medical insurance plans.
Annual Maximum Used to Date: The amount of your plan maximum used to date during a benefit period.
Overmax: The amount which exceeds your plan maximum during a given benefit period.
Frequently Asked Questions About Explanation of Benefits
Is my explanation of benefits a bill?
No, an EOB is not a bill. On the most basic level, your EOB will provide a breakdown of the dental services that you received, the amount Delta Dental will pay to your dentist, and any portion you will be expected to pay the dental office. A bill for any amounts you may owe will come separately.
When will I receive my EOB?
The dentist will bill your dental benefits company after you've received dental treatment, and then you will receive an EOB, typically before you receive a bill from the dental office for any amount you may owe.
How can I stop paper EOBs?
Please contact us to manage your Delta Dental benefits. On your local Delta Dental web portal, you can view plan information, download forms, view claims, track dental activity and go paperless!